Sony Card Recovery - Professional data recovery tool that recovers deleted, and lost files from Sony XQD memory cards. Click on below download button to get the free version of this software, and restore your lost/deleted files photos, videos, songs, and other files from Sony XQD cards..!
The XQD card is a high-speed flash memory card which uses PCI Express as the data transfer interface. The first XQD was developed by Sony Corporation. It is the ideal flash storage device for high-end camcorders and DSLR cameras. The data transfer rates of XQD cards are very high as compared to Secure Digital cards and Compact Flash cards. It provides data storage up to 2TB.
As a pioneer in the field of high-definition camcorders, Sony had to find a flash storage device that is fully compatible with their high-end digital imaging products. Perhaps, this may lead to the development of XQD cards. Till now, Sony has released three series of SD cards namely G, S and N series. XQD cards are fully compatible with USB 3.0.
Nowadays, many professional videographers who are using Sony camcorders have access to XQD cards. Sony provides a professional clip management application called "Content Browser". This application is widely used by many professionals who are using Sony cameras and camcorders. It provides file transfer from XQD card by using drag and drop method. But in some situations, while moving files from XQD card into Content Browser there is a chance for loss of such files because of errors such as violation of access rights, interrupted transfer, etc.
Testimonials
It is one of the situations when you require a Sony XQD card recovery software if you are using Sony DSLRs or HD camcorders. You can recover Sony XQD cards belonging to any series like G, N or S with the help of the Sony Card Recovery tool. This software can be used to retrieve Sony XQD card data on high-end camcorders such as FDR-AX1, PXW-Z100, and PXW-FS7 etc.
Apart from the above mentioned scenario, there are a number of other circumstances that results in the loss/deletion of precious data from XQD cards. A few of them are listed below.
You may accidentally delete media files from an XQD card while working on either cameras or computers.
Sometimes, you may perform a complete formatting of XQD card while using it on a PC instead of any other drive.
If you are not using "Safely Eject" option on your computer to eject the XQD card, there is a chance for data loss from that card.
Using XQD card to store images on the camera during "low battery" condition, may result in the data loss from it.
If you are trying to add more data into your XQD card even though it has no available memory, it may result in the loss of files from the card.
Sony Card Recovery Software to Recover Files from Sony XQD Memory Card
All the above-mentioned scenarios can be effectively resolved by using the Sony Card Recovery tool. This tool allows you to restore data from Sony XQD card formatted with various file systems such as exFAT, FAT32, etc. The demo version of the tool comes out with a feature "Save Recovery Session" that enables the users to save the entire recovery session, and so with "Open Recovery Session" feature, one can resume the recovered session without having to re-scan the card again. Let's know more about the software in below section.
Key Features of Sony Card Recovery Software
This Sony XQD Card Recovery software is capable of reviving files having different image types, RAW image formats, various video formats, etc. from the digital cameras and camcorders without any complexity.
Alternatively, you can use this tool for performing Sony Memory Stick Pro Duo recovery and can recover different types of files based on their unique signatures.
Recovering Sony XQD cards can be performed using this tool within a few simple steps and the recovered data can be previewed for evaluating the effectiveness of the recovery.
Only a nominal disk space of 50 MB is required to install and run this tool.
You can retrieve RAW files from various digital camera brands using the Sony XQD card recovery software without the loss of image quality.
Free technical support is available at any time.
You can arrange recovered data based on file type, file name, modified date, file size, etc.
Steps to Recover Deleted & lost Files from Sony XQD Card
Step 1- Download and install the software on your PC. Connect the Sony XQD memory card to your computer Via a card reader. Next, run the application and select "Recover Photos" option to start XQD memory card recovery. Then, choose the XQD memory Card from the list of available logical drives, and hit "Scan" button.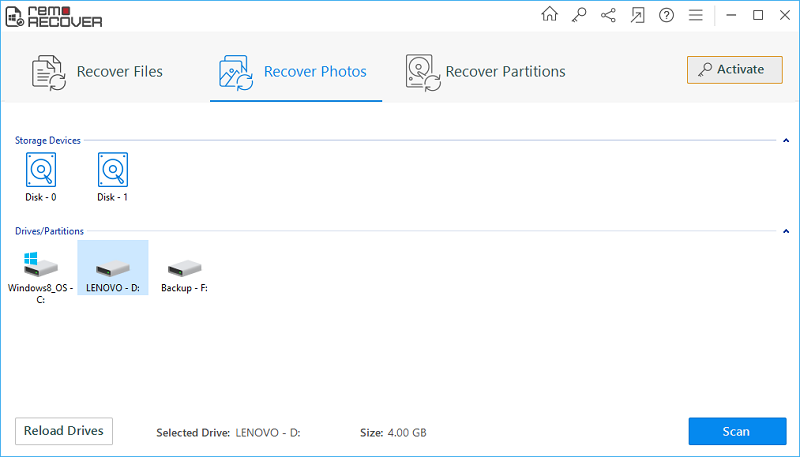 Step 2- The software now scans the selected SOny Card. Wait untill the scanning is complete. Upon the completion of scanning & recovery process, a list of recovered files are displayed on the screen. You can view the recovered files in "Data View", and "File Type View"
Step 3- Before saving the recovered files, you can preview each of the recovered files, just by double-clicking on the file or by right-clicking on the file, and hitting Preview option.
Step 4- Finally, if the software has recovered all your files from Sony Card, and you are satisfied with the tool, then activate the licanese key of the tool, and save the recovered files at your desired location.