A robust technique to restore Sony Memory Stick Pro Duo
Works by scanning the storage and extracted inaccessible files from it
Corrupt, formatted, deleted or lost media can be smoothly retrieved
Also recovers data from camera memory cards, USB drives and other external drives
Available to run on Windows and Mac OSX
The memory stick is a tiny portable device introduced by Sony in 1988. It was designed for digital storage in the camera, camcorders and other digital devices. The original version of memory stick had storage capacities from 4 MB to 8 MB. The family of memory stick includes Memory stick Pro, Memory stick Duo and Memory stick Pro Duo.
Memory stick Pro Duo was developed for meeting the changing market needs for small memory cards for the pocket-sized digital camera. Memory stick Duo was replaced by Memory stick Pro Duo due to a limitation in its size and slow data transfer speed. In 2008, Sony introduced a memory stick that can hold up to 16 GB size. They are compatible to be used on all Sony products having a flash media but can't be used on products which are not developed by Sony. They store the digital data like photos, music, video, animations and many more within its size limit. When used on your digital devices you can end up in deleting or losing files from it. During such panic situations download Memory Stick recovery software that can perform recovery on the Sony memory card and restore all digital files without causing any harm to your system.
Memory stick Pro Duo is one of the common types of memory cards used in Sony Ericson Smartphones. Even though Smartphones labeled by the name Sony Ericson is not produced nowadays, many people are still using earlier Sony Ericson models. You can use this software for the purpose of Sony Ericsson memory card recovery on different brands and types of memory cards such as Memory sticks, SD, CF, etc.
What can cause loss of files from Memory stick Pro Duo?
Spyware attack: The most common scenario of data loss occurs due to the virus infection. The virus is a harmful program whose aim is to destroy the data. They find network as the common path to attack healthy files. When files used on the network and then downloaded on your memory stick for use they infect the files on your Sony memory stick Pro Duo and cause its loss. Therefore, it's necessary to scan the files before your save them to your system or when connecting a file already infected by these threats
Accidental deletion: When files are saved on your Sony memory stick Pro Duo, you may have to bring some changes to the files. When carrying out some action of this sort, a user can accidentally press on the delete option on the selected file which can cause its loss due to deletion. When you encounter this situation on Sony NEX 3N digital camera and want to recover deleted files, then you can get a perfect solution by visiting here - https://www.sonycardrecovery.com/nex-3n-deleted-file.html.
Improper ejection: Memory stick has to be connected to the computer in order to copy files from them to your hard drives. The connection can only be established with the help of a memory card reader. After the use of one has to eject them by using "Safely Remove Hardware" option on your computer. But most of the times users pull them out harshly which cause its damage and results in loss of files
By making use of this recovery tool, you can easily perform Sony memory stick Pro Duo recovery, also you can recover video files from the Sony Handycam after format just within a fraction of minutes. It supports all brands of the camera memory card.
Steps to perform Sony Memory Stick Pro Duo recovery:
Step 1- Download Memory stick Recovery tool to your PC and perform installation. Connect the Sony Memory Stick Pro Duo of your camera to your device and make sure it is detected. Launch the application and select "Recover Photos" from first screen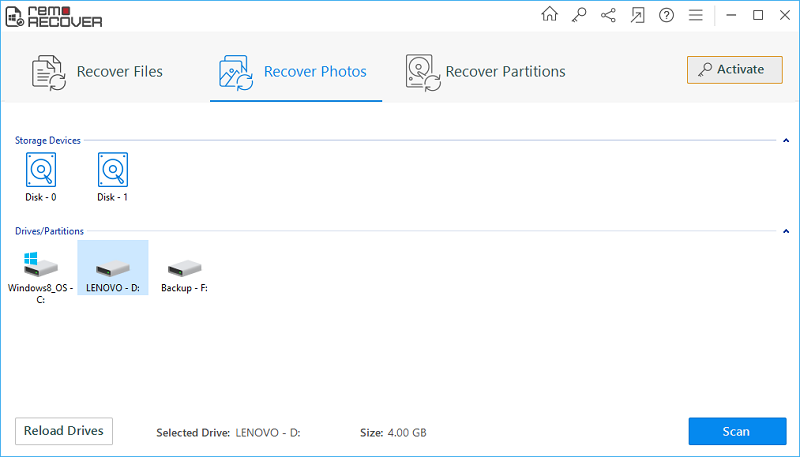 Step 2- Select either "Recover Deleted Photos" or "Recover Lost Photos" from the next screen. After making the selection, the software pops up a screen to select the memory stick drive from which you lost the files. Select the drive and click on "Next" option.
Step 3- When the scanning and Sony
memory stick Pro Duo recovery process completes, select and preview your file from the displayed list of recovered files and restore it back to your system when you purchase the product