A magnificent utility to regain lost videos from Sony camcorders
Supports all media formats of videos, pictures, audio etc.
Files that are deleted, lost, formatted or corrupt can be easily extracted
Also performs recovery from all models of Sony cameras, memory cards, memory sticks and USB drives
Sony camcorder is basically used to create high definition videos in a very simplistic way. This electronic gadget can be taken on different locations for making videos of a high resolution. Sony camcorders are available for household and business use. Most of Sony camcorders have a single limitation i.e. they don't have a large internal memory space area. So, if you wish to create long duration video then, you need to attach memory card over it. Video files that are saved over a camcorder memory card can get missing or lost due to a plethora of reasons. If you are facing the same kind of problem then you need to use appropriate data recovery software as soon as possible.
Video file recovery from Sony camcorder memory card is possible because when any file is erased from stored location then only file pointer is erased from the file system of the respective storage device. All the recently deleted or lost files keep the pre-allocated memory space occupied as long as they aren't overwritten by any of the new files. So, if you really wish to get back files from Sony camcorder memory card then you should use Sony Card Recovery software as early as possible. Before knowing how to use this software to recover files from Sony camcorder, let's review some of the scenarios that frequently cause data loss from a Sony camcorder.
Accidental Deletion: Saving and deleting a file on a Sony camcorder memory card is one of the regular tasks. If you accidentally use delete option over Sony camcorder instead of some other option then you may end up deleting some of the recently created video files. Since there is no manual way to restore files from Sony camcorder so accidental deletions of the video file on a Sony camcorder mean permanent deletion.
Improper Ejection: It is always recommended to turn off your Sony camcorder in order to remove the memory card from the Sony camcorder. But, if you don't follow a proper procedure for removing the memory card from Sony camcorder then there is a possibility that memory card may get corrupted.
Error While File Transfer: Usually after creating the desired video file on the Sony camcorder, we move it to the computer hard drive, external hard drive, etc. If any interruption happens while making data transfer from memory card then you may lose some of the important video files from memory card.
Accidental Formatting: Format option is used to reset the file system of the different storage device. If you accidentally use this option on Sony camcorder then all files saved over it is wiped off.
Usage of the Memory Card over Different Gadgets: Any memory card can be used over different electronic devices. However, if you use the same memory card on a Sony camcorder and different devices such as phone, iPod, camera, etc. at the same time then there is a possibility that files that are saved over Sony camcorder memory card may get unreachable.
Virus Attack: Viruses are small programs which can alter any basis file structure of Sony camcorder memory card. If viruses of such intensity corrupt file system of Sony camcorder memory card then all the video files that are saved over it would get unreachable.
Other Reasons: Video file can get missing or lost due to different other reasons such as deletion while previewing, deletion by antivirus, format error, and many others. In all these states of affair, you need to use this software to perform data recovery from Sony camcorder.
This software has one of the best interfaces that allow you to easily perform data recovery from the Sony camcorder in a few simple steps. It guides you at every single step to retrieve the video file from Sony camcorder in a hassle-free manner. If needed, you can make specific file recovery from the Sony camcorder memory card. It permits you to recover RAW files from different Sony camcorders. You can use this software on different brands of memory card such as Sony, Samsung, Transcend, SanDisk, Kingston etc.
As the scanning process gets completed on this software you can see video file in Data View and File Type File. In either of this file viewing mode, you can sort files on the basis of file name, file size, file creation date and file type. It can be easily used on both Windows and Mac operating systems. Without any problem, you can use this application to recover files from a Sony CF card, SD card, xD card, MMC, etc.
Steps to recover files from Sony camcorder:
Step 1- Download Sony Card Recovery tool on your PC and perform its installation. Connect the Sony camcorder memory card to your system. Launch the application and select "Recover Photos" from the first screen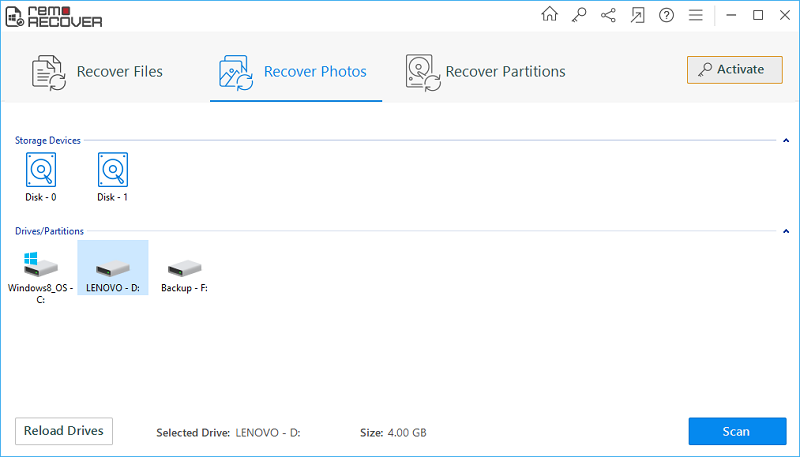 Step 2- Select either "Recover Deleted Photos" or "Recover Lost Photos" from the displayed second screen. Select the memory card from which you lost the photos. Select the drive and click on "Next" option.
Step 3- When the scanning process is complete, select and preview your file from the displayed list of recovered videos as shown in the figure below.