A highly-efficient tool to retrieve audio files from various memory cards
Recovers all file type formats of songs, pictures, videos and so on.
Built with a rich set of algorithms that scans and extracts data from corrupt cards
Media files from damaged, formatted or unreadable cards can be easily revived
A memory card is the most famous electronic flash memory data storage device which is used for storing digital information. This small chip is commonly used in many electronic devices such as the digital cameras, MP3 players, laptops, video game consoles, mobile phones and many others. There are different types of memory cards available such as, MicroSD Card, SD Card, SDHC Card, CF Card, XD Card etc. that are specially developed for various devices. You can easily store, access, view and transfer your MP3 audio files from any of the memory cards.
It is usually compressed for storage or faster transmission. Undoubtedly, audio files are playing a very important role in your daily lives. Without audio files, you cannot take part in a conference, listen to music etc. Audio files are commonly available in MP3 and WAV file formats. You might be thinking that if you store your MP3 files on a memory card then it will be safe when compared to the hard disk or CD. Audio files stored on any storage devices may get accidentally deleted or lost even after considering the fact that flash memory cards are more robust compared to other storage devices. But don't worry! As said, every problem has a solution, you can recover audio files from memory card that are deleted or lost by using efficient Sony Card Recovery Software. Visit: https://www.sonycardrecovery.com/micro-vault.html to know how to recover data from the Sony Micro Vault drive using this software.
Scenarios that lead to deletion or loss of audio files from the memory card:
Accidental deletion of the audio files can happen especially while listening to music from your computer or mobile phone. If you are listening to music from the computer to which the memory card is connected and deleted the important audio files accidentally then there is no option left to recover those files i.e., you cannot use restore option provided in the Recycle Bin. When any file considering music files are deleted from the external storage device, they bypass Recycle Bin resulting in a permanent loss
Abrupt pulling of the memory card from the system when the read or write process is being carried out or while transferring the files, may lead to loss of audio files. In such case, you can recover songs from the memory card using the Sony Card Recovery Software
Virus or malware corrupts the memory card thereby damages the file system of the memory card hence, making the data such as audio files, videos, images etc. stored in it inaccessible. In this case, you can make use of the Sony Card Recovery Software to recover songs from the memory card
If you have come across with any of the situations mentioned above and don't know how to get out of it then don't panic! You can recover songs from the memory card using the Sony Card Recovery Software. You can trust this tool, which is suggested by most of the software professionals. With the help of this software, you can recover audio from the memory card such as MP3, MP4, WAV, MIDI, M4b, M4A, AIFF, AIF, AIFC, RA, and AMR etc. Apart from supporting how to recover audio files from memory card, this software also supports picture recovery from the digital camera, including RAW images, videos and other text files etc. This software is compatible with Windows 7, Windows 8, Windows10, Windows Vista, Windows XP, Windows Server 2003 and 2008 Operating Systems. Once the audio file recovery from memory card gets completed, recovered audio files can be previewed before saving them to the respective destination drive. If you want to recover music from an SD Card, CF Card, XD Card etc. then, this is the best software you can make use of. Hence, it is one of the simple and safe applications to recover songs from memory card.
Steps to recover audio from memory card using Sony Card Recovery Software:
Step 1: Download and Install the demo version of the Sony Card Recovery software. Connect your memory card to the system so that the recovery process can be carried out effectively and Run the software. From the main screen, select "Recover Photos" options to recover audio files from the memory card.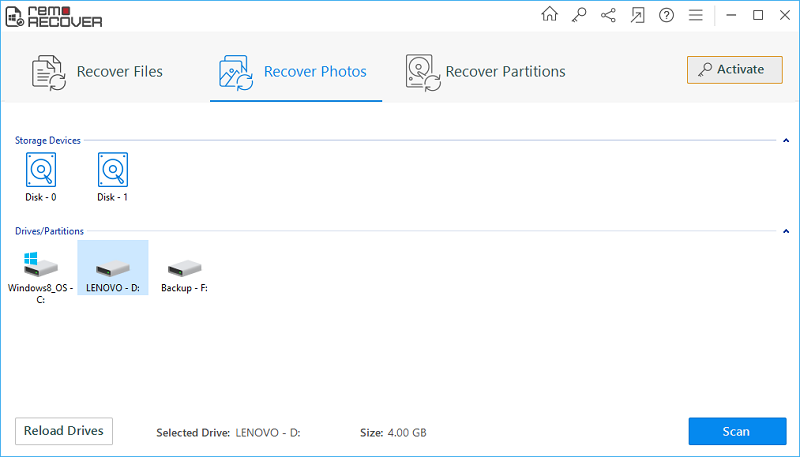 Fig 1. Main Screen
Step 2: Now, the software scans and displays a list of drives including your memory card, choose the particular drive from which you need to recover audio files from the memory card and click on "Next" button.
Fig 2. Select Memory Card
Step 3: Once the scanning process is completed, you can view the recovered audio files using "Preview" option and then "Save" the recovered files to your desired location on the computer.
Fig 3. Preview Screen